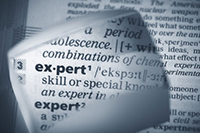 The Advocate and the Expert in the Court of Protection
By Carl Islam, Barrister TEP, 1 Essex Court (www.ihtbar.com)
and Dr Hugh Series DM, FRCPsych, LLM, MB, BS, MA. Consultant old age psychiatrist, Oxford Health NHS Foundation Trust; Member, Faculty of Law, University of Oxford; Member, First tier tribunal (mental health) (www.hughseries.co.uk).
Introduction
The aim of this article is to explore the practical interface between the advocate and the expert in proceedings before the Court of Protection ('COP'), and is written for both lawyers and experts. Unless otherwise stated, all statutory references are to the Mental Capacity Act 2005 ('MCA'), and the person over whom the court has jurisdiction is referred to as 'P'.
The COP has the power to make declarations and decisions on behalf of a person who lacks capacity. One area of the court's work which is growing very rapidly is deprivation of liberty (DOL), discussed further below. People lacking capacity who are de-prived of liberty in hospitals or care homes must have that deprivation authorised by the local authority. The number of applications for DOLS has been growing very fast year on year since the DOLS were introduced in 2009, and for the year 2015–16 there were 195,840 applications. Appeals against a DOLS authorisation may be made to the COP under section 21A MCA. In relation to people deprived of their liberty outside hospitals or care homes, for example in supported living arrangements or hostels, the application for authorisation must be made directly to the COP. In 2017 there were 3,955 DOL applications to the court, a rise of 27% compared to 2016. As applications for authorisation should be made for everyone who lacks capacity and is deprived of liberty, and as this will include many people with dementia or intellectual disability, these figures, although large, are likely to be substantially less than the number that should be made. A largely unexplored question relates to the position of those who are in fact deprived of liberty but for whom no application has been made.
For the full article please view
https://scoop-cms.s3-eu-west-1.amazonaws.com/55dd7640ca2f3ade448b457d/documents/the-advocate-and-the-expert-in-the-court-of-protection.pdf
---
---